"Florence Griffith – Joyner was a total rockstar athlete…"
There is an element of fashion and swag present in athletes that it contributes to their confidence and success in and out of their arena.
Style is an innate part of any competitor's persona. It gives them an edge and an air for other athletes to look out for.
One of the first athletes who stand out to me and really demonstrates this was the U.S. Olympic track star, Florence Griffith – Joyner.
May she rest in peace.
Athleisure
In more recent years, fashion is definitely an industry that has developed with sports and fitness culture in mind.
Adidas has recently taken a front seat as not only an athletic brand, but a whole trend — due to its collaborations with celebrities, musicians, and athletes.
Similarly, Champion and FILA have really stepped their game up to compete in the athleisure fashion game.
Furthermore, there are athletes who absolutely slay the fashion game — especially when we talk about athleisure and red carpets.
But to be real — there just aren't any style icons like the O.G, Flo Jo.
Dang! That woman was fire on the track and field — as an athlete and fashion mogul.
Flo Jo: The Athlete
Okay, okay, okay. Florence Griffith – Joyner was a total rockstar athlete.
One does not simply get on the U.S. Olympic Track and Field team without, at least a little, natural talent and a TON of tenacity.
What you may not know is that she wasn't a gifted athlete.
While she was innately fast and found success in track from age 7 and onward, she worked her butt off to get to the Olympics.
From then on, she had a lot of success gaining accolades and setting records through college.
Her parents taught her what it was to be a well-rounded individual and to work hard.
They introduced her to many activities, including sewing clothes and handstand contests, which instilled a drive to excel in Florence.
Chasing The Dream
She was not given anything on a silver platter.
In fact, she took many breaks from school to earn money in order to afford school and the pursuit of her track dream.
One of her side gigs was styling friends' hair — which may have been the start of her commitment to beauty on the field.
Flo Jo's dream to achieve in track was inspired by and matched with an unparalleled work ethic.
She trained and worked incessantly to achieve the goals she had.
A true competitor mindset.
In Training
When training was on, it was ON!
Flo's life was all about training, running, and getting to the next level.
Her head was always wrapped around winning.
Whatever it takes…
Her mentality set her apart and still does set her apart from other athletes.
She embodied the sport throughout her life and that embodiment spilled into her persona as a national figure.
Flo Jo: The Icon
Come on, even down to her name, the woman oozed celebrity influencer, style icon, and sex appeal.
We know that style was a value she gained in childhood and in her work — sewing her own clothes and styling her friends' hair.
She drew an audience…
Her showmanship with style and personality was the cherry on top of rooting for a star athlete.
Flo Jo had an incredible sense of self coupled with her competitive nature which was a catalyst for attention.
Racing with Style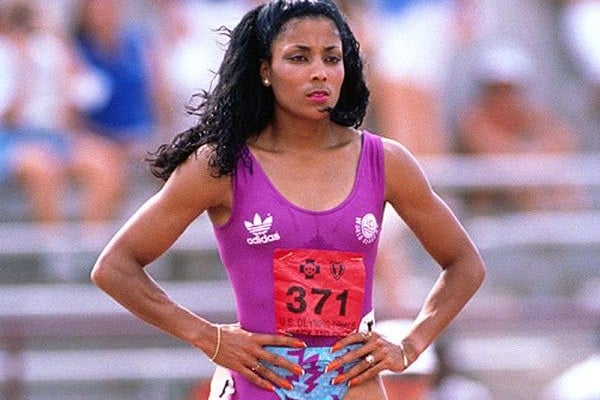 At her races, she showed up with an amazing outfit, hair and nails done, everything right – Flo was fancy and fabulous!
Being authentically herself and being expressive added to the grandeur of her events.
Her character was as entertaining as her athleticism was impressive.
Flo was a 3-time Gold Medalist. She still holds world records as the "Fastest Woman in the World" for the 100 and 200 meter sprint.
The anticipation to see how she would perform in the race was as great as the excitement to see what she would be wearing.
Truly A Star
She was an athlete that no one could take their eyes off.
The confidence she exuded from her style amplified her ability to perform.
It was part of her mindset.
While the extremely long nails and unique attire may seem flamboyant, it was a part of her strategy.
There was no standard race attire for Flo.
Fashion
Her outfits ranged from lace tights to asymmetrical suits with one legging and the other revealed to bright neon bodysuits.
On her hands though, she always wore her nails a minimum of 4 inches in length and painted an eye-catching shade.
All her looks were topped with flowing locks of hair which also separated her from other runners.
Her style was as much a part of her performance as her training and running ability.
Confidence
Her style hyped her up!
Confidence that big and apparent definitely comes with some intimidation factor.
There is not a doubt in my mind that other athletes felt her presence in a big way — and that can mess with their game.
Flo Jo was a killer competitor in every sense.
Athletes, take notes from this legend — Flo Jo.
Flo Jo: Then an Influencer, Always an Influencer
Takeaways from Flo:
Flo Jo was and always will be an amazing track athlete.
Her commitment to training and pushing herself beyond all limits is awe-inspiring.
Even after she's passed (RIP, girlfriend), we are still talking about her.
Her athletic ability is applauded.
Her genuine drive and self-expression is admired.
It is my opinion that beyond her obvious talent and fashion were deeper traits that everyone should explore and develop.
Competitor Mindset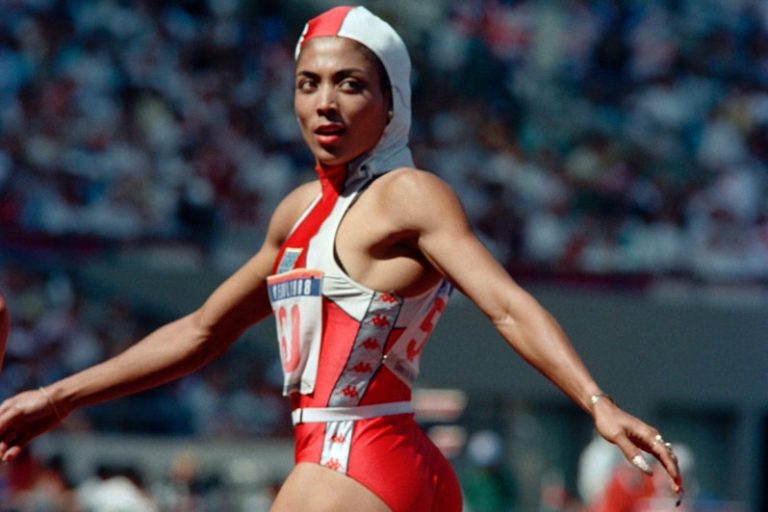 Flo Jo ran her own race. Literally and figuratively.
She was in her own lane (Okay, I'll stop with the track puns).
Flo Jo's mentality around training was all about improvement and what she was in control of. She wasn't looking outside herself to compare to others and what they were doing.
Even though she wasn't innately the most gifted athlete, it didn't stop her from doing what she wanted to most.
The drive to compete led her to intense training and a lifestyle that revolved around running — getting faster and stronger…
Her competitor mindset because her character and her character fueled her competitor mindset. She walked her talk and vice versa.
Fully eating, sleep, and breathing, her competitive persona allowed her success and attracted her audience.
In 1993, President Bill Clinton, appointed her to the Council for Physical Fitness and Sports and noted that,
It made track and field that much more interesting.
It made audiences root for her, once an underdog, even more.
Here we are, still celebrating Flo Jo today.
Here are some quick tips from her how she lived life:
Get in your lane — focus. Do you.
Run your own race.
Attract your audience and make an impact.
Self-Acceptance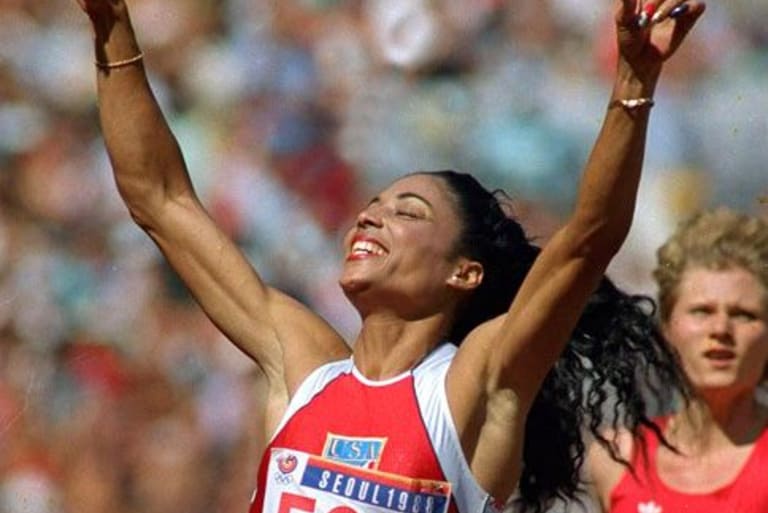 In this day and age, we should all aspire to bring some Flo Jo energy into our lives.
Flo Jo brought it with the femininity!
In sports that are largely dominated by men, Flo made an impact for women.
She made women's track an even bigger event to look forward to.
By sticking to her personal style — with her hair, nails, and outfits — she shows us that it is possible to be feminine and strong.
Do You
Especially as women, athletes or not, self-acceptance and showing up as our true selves is so impactful.
It allows and inspires others to do the same.
I hope that you find inspiration from Flo Jo (and other athletes) to be your authentic self in your life — even in the unexpected areas.
Wear what you want.
Do it with flair.
Let that originality shine through and be an asset. Let it be what sets you apart and increases your confidence.
Take a play from Flo Jo's book — stay focused, stay driven, stay you, stay competitive.
Make it you. Make it consistent.
Make personality ooze from your very being.
Scare 'em and excite 'em with your tenacity and drama.
Athletes in the limelight, I dare you take on this style icon. I look forward to seeing what you come up with on and off the field.
Thanks For Reading!
Hope that you enjoyed this article. If you want more inspiring stories, rad about other inspiring women like Robin Arzon and Fawn Dorr. If you're feeling inspired to run, grab your running tights or running pants and go for it!